Entertainment
Afterparty
This year we've prepared a really stylish party at the Albatros Botel, which is moored near the Charles Bridge, in the middle of the historical center of Prague. We hope that our stylish decor of the ship will bring you deep to the halloween spirit.
Have a mixed drink, top quality Czech beer Budweiser, light or dark, or just enjoy some soft or non-alcoholic drinks with your friends while adoring the view to the historical center of Prague. We've made sure that the prices for your drinks are exclusive just for our party.

BBQ banquet
Would you enjoy some tasty snacks for your drink? Nothing easier than coming to our banquet. We've prepared a regularly refilled cold and warm banquet for afterparty attendees. The selection will include schnitzels, salads, goulash, steaks, various kinds of cheese and salami, and for a sweet ending, some fresh fruit. The banquet is closing at 11PM. Consumption is included in the price of basic registration.

The raffle
We will also have a raffle for valuable prices. Entry ticket for the raffle is your registration, so everyone has the same chance to win. Drawing will be at 9PM at the afterparty. It is mandatory to pick up the prices on the spot, or later at the bar until midnight.

Furdance
We also cooperate with DJ Konu, who will be holding a genuine furdance on the front deck, right across the bar.

Start of the Afterparty is scheduled for Saturday, 29th of October 2022, at 7PM, and will last long until there will be somebody on site, or at least until 2AM.
Keep in mind that the whole interior of Albatros Botel is a non-smoking area. You can have a smoke on the upper deck, or outside of the Botel. The party is 18+ only. Registration package is mandatory for entering the Afterparty, buying entry tickets only for the Afterparty separately is not possible.

Cruise Ship
Traditional boat cruise is scheduled for Friday's evening, 28th October 2022 8:00 - 10:00 pm, and is included in the price of the basic registration. We will sail across the night Vltava river with a three-deck Europe boat with a bar, dancing party and a banquet. The boat cruise is for registered attendees only, buying boat tickets separately is not possible.
Traditional Halloween outing
Traditional Halloween outing, one of the biggest furry outings in Europe, has taken place in Prague, the capitol of Czechia, for many years. Due to organizational reasons we've decided to separate it from the FHP itself, although the date during the FHP and benefits for the accommodated (such as shuttle service and a changing room) will not change and stay as they were until now. More to see about this event, which takes place on 29th October 2022, can be soon found on the official website.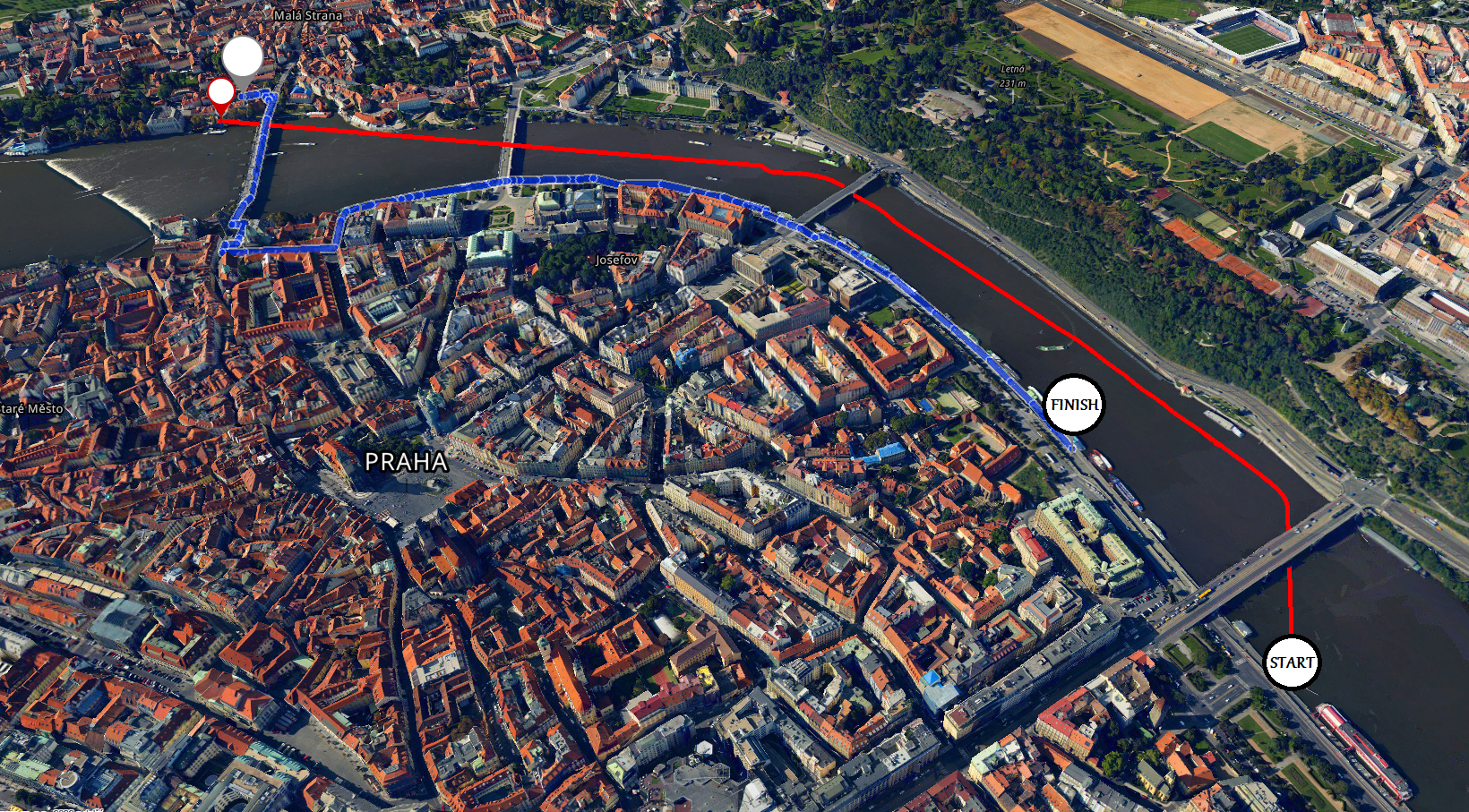 The boat route (red lines), is only possible for those registered with the basic package with or without accommodation.